As can be seen here, recently the posterior deltoid section was updated:
http://www.exrx.net/Lists/ExList/Should ... hor1934542
In particular, I'm paying attention to this selectorized training machine:
http://www.exrx.net/WeightExercises/Del ... Raise.html
I'm sure a lot of people have seen some reversible pec fly machines that allow this training option. But I want to look at a very important variation in terms of grip.
If we look at the compound seated rowing movements, there's a huge difference between how we tend to train with a hammer grip, which allows the elbows to gravitate in, versus a prone grip, which tends to orient the elbows outward. For example, compare these movements:
http://www.exrx.net/WeightExercises/Del ... ltRow.html
http://www.exrx.net/WeightExercises/Bac ... edRow.html
The same variation exists in the more isolation-ish fly variations. The variation depicted for the rear lateral raise lever uses a hammer grip, which makes me wonder: is it the ideal way to target the posterior deltoid? The guy does seem to be pointing his elbows backward, but I don't think this is easy or natural-feeling to do with a hammer grip. To keep the elbows pointing outward (in stretch) or back towards the scapulae (in contraction) while using a hammer grip, you must forcibly supinate your palms and it just feels very odd. I believe one is prone to form deteriorating and the elbows would point downward, which would recruit the medial deltoid.
I only thought of this idea because of reading the ExRx page which distinguishes between transverse abduction vs. transverse extension:
http://www.exrx.net/Articulations/Shoul ... chor107050
These transverse movements are similar except that it's a tradeoff between using the lateral deltoid vs. the latissimus dorsii (where do the teres major come into play?). This change in muscle use also seems to occur when you change the angle of pull too (separate factor compared to shoulder rotation) like say if you are doing a seated row, if you lean forward you use more lats (it becomes more like a pulldown) and if you lean backward, you use more middle delts (it becomes more like an upright row).
To illustrate what I mean, here's an example of people who I think look like they have neutral forearms using the different grips of the rear delt fly, you can see the difference in where the elbow is pointing and how this changes it from a t-abduction vs. a t-extension which might hit the posterior delt to different degrees.
Here are some guys using an overhand (prone) grip on the machine, yet despite being prone his forearm is actually neutrally rotated (what we normally know as hammer grip) and is only palm-down because his arm is abducted 90 degrees:
This guy is similar, but you can see his elbows sinking:
What I think is happening is even though he has an overhand grip (which is neutral in forearm rotation), he is still externally rotating his arms by fully pronating the forearm. Some people actually do more than an overhand grip by combining full pronation and full internal rotation. I'm not sure what to call this, maybe "reverse hammer grip" since the thumb is down rather than up, but it looks like a neat trick to avoid the problem, not to mention something for people to do on machines that lack the horizantal grip:
Though in that case you might not call it a grip at all, but I'm sure people can imagine how you could choose to grip the bar thumbs-down with the kind of hand orientation he is using.
This woman seems to be halfway between the two, as the elbows look like they're angled down about 45 degrees-ish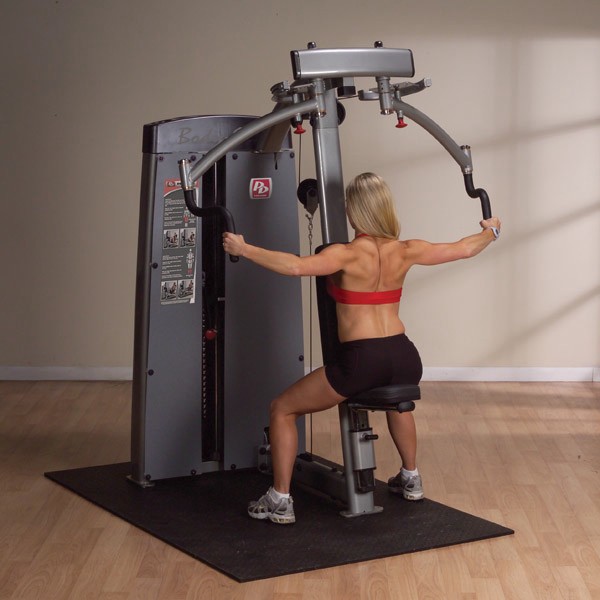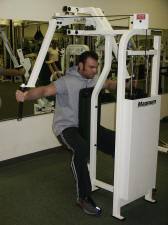 This guy on the right above also looks to be midway between abduction and extension.
Here is an example of a woman who is using a hammer grip, yet keeping her elbow pointing back rather than down by forcibly supinating her hand:
This guy also seems to be forcibly supinating the forearm to keep the elbows pointed out/back rather than drift down as they would it it relaxed.
I think part of this may have to do with elbow-bend. People who allow some elbow bend during flying motions can lead the movement with the elbow, I think this would naturally incline you to internally rotate the shoulder and supinate the forearm even if one was using a hammer grip. If you kept the arm externally rotated, you couldn't lead the movement with the elbow, you'd have to lead it with the hand and keep the elbow below it and use a strong constraction of the external rotators.
Basically this concern is mostly focused on the straight-arm variations where the elbow is locked or almost locked.
I'm especially worried if people adopt a supine grip while doing this exercise, because a lot of external rotation could shift the delt work forward from rear to middle, just like externally rotated to do an overhead press shifts from middle to front. For an example, would you say this works rear delts as a prime mover? I'm not sure now...