Back before my wonderful gym closed I would do Glute-Ham raises on their Roman chair, which was similar to this one in design, particularly the rounded front pad and the back plate for your feet.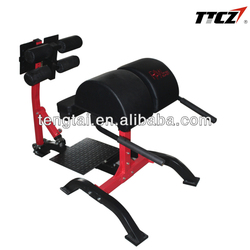 While using this I was able to do GH raises easily, and was adding weight over time.
But not having this kind of chair available, when trying to do a Russian Curl I can't come close to doing even one.
The mechanics of the two moves seem to be very different. On the chair above, you press your feet back against the plate during the concentric and at the top the rep the top of your knees is wedged against the front of the pad. This seems to make it much easier.
So I've looked on Amazon and seen that most so-called Russian chairs would really leave me doing a Russian Curl, which seems impossible for me.
Has anybody used one of these Roman Chairs with flat pads and no back plate? Do they give you more of a Russian Curl feel?